Description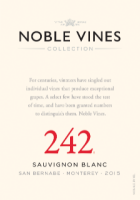 Tasting Notes
Noble Vines Sauvignon Blanc exhibits vibrant aromas of lemon and lime zest, white nectarine and green apple. Medium-bodied with a weighty mid-palate and crisp acidity, this refreshing wine offers flavors of ripe peach, honeydew melon and kiwi before extending into a zesty, lingering finish.
Beyond the Numbers
Noble Vines' Sauvignon Blanc is named for block 242 of our vineyard in the San Bernabe AVA of Monterey. This cool location along the California Central Coast—similar in climate to Marlborough, New Zealand—produces the bright citrus tones in this wine. The loamy hillside soils of block 242 are heavier and more vigorous which allow the vines to grow protective canopies to shade the fruit from the afternoon sun. This brings about Sauvignon Blanc with brilliant aromatics and balanced acidity. The primary vine stock in this wine is Sauvignon Blanc 1, which originated in Bordeaux, France and has adapted well to California. It is accented with Sauvignon Musque, which adds a floral bouquet and thicker mouthfeel.
Winemaker
Winemaker James Ewart says the goal with Sauvignon Blanc is to pick the delicate fruit during the small window of time in which the varietal shows its favored characteristics. "Sauvignon Blanc is a unique grape to watch during harvest because you must pick the moment the fruit shows the balance between grass, kiwi and melon notes," he explains. "The moment I determine the grapes are ready, I am able to bring them to the winery quickly for gentle pressing." Once pressed, the juice is transferred into stainless steel tanks. Special yeasts are then added to the juice to enhance the aromatics and flavors of the Sauvignon Blanc during fermentation.